SNNT -- A Brief History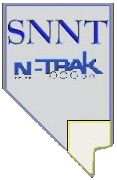 The Southern Nevada N-Trakers (SNNT) was formed in November 1997, by Ed Hall and six others with the
purpose of promoting N-Scale Model Railroading using the international NTRAK modular standards as a rule . One of the original six members ( Bob Jones) is still actively participates with the club . While many members have joined, and some move away, we currently have 14 active members and a steady flow of new member requests .
The main goal of the SNNT club is to promote model railroading through the display of an N-Scale layout that is comprised of both member-owned and club-owned modules . Each individual module contains track and scenery that depicts a railroad location, either fictional or real, as the member wishes . In turn, each module can be connected to any other module, to complete an entire model railroad layout . This arrangement, being highly portable, can be rapidly moved and set up at a public location, for the benefit of those wishing to view an operational layout .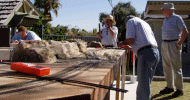 The SNNT club strongly suggests that members follow a "southwest theme" in design of their scenery . Member modules have demonstrated scenery from the barren wasteland of the Mojave Desert to the mountainous, wooded areas of northern Arizona , and from the rural areas of barren desert to populated cities and towns .
The SNNT club has actively participated in numerous public and private functions, where the display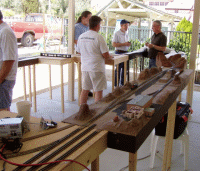 of a working model railroad is warranted . The crowd-pleasing features of this layout include the simultaneous operation of multiple trains (usually four or more), the high ratio of scenery to track, and the ability to operate long (heavy) trains comprising 60-100 railroad cars and multiple locomotive units .
November 2002, setup NTRAK layout in Barstow Harvey House as part of
NMRA® Railroad Days.
December 2002, setup for Christmas show in the Henderson Convention and Events cente in conjunction with TTOS and NMRA®.
December 2003, setup for Christmas show in the Henderson Convention and Events center in conjunction with TTOS and NMRA®.
In January 2005 SNNT as a club endorsed transitioning to DCC to control trains during club setups. The club adapted the Digitrax System and purchased equipment. This will be accomplished in steps, first dedicating one mainline to DCC and eventually full DCC control.
May 2005, oNeTRAK debut at Joe Dorners.
In May 2005 SNNT added oNeTRAK modules to complement the NTRAK modules of the club. This will provide for prototype operations on a single branchline. The oNeTRAK, when setup in a public presentation by SNNT will be solely DCC, with no provisions for DC analog control. Guidelines for club modules have been developed.
October 2005, Joint setup with Orange County N'gineers at Barstow Train Show sponsored by NMRA®.
July 2006, the club became a 100% NMRA club to take advantage of their insurance umbrella and other benefits.
August 2006, radio link added to Digitrax DCC system. Also added requirment for all NTRAK modules to use 12 gauge stranded zip cord on all lines.
October 2006 Club purchased a Digitrax DB150 booster to support larger layouts.
May 2007. Club adopted material for fire proof skirts for public setups.
July 2007, added Mountain line as a requirement for NTRAK modules. Old modules will use a rear bypass.
December 2007, Setup NTRAK at Boulder City Holiday Train Show.
June 2008 Club authorized the purchase of a trailer to transport and store club modules.
December 2008, Boulder City Santa Train NTRAK setup.
April 2009, Winslow Arizona Railroad days NTRAK setup with multiple clubs from Arizona.
October 2009, Barstow Train Show NTRAK setup in the Harvey House.
December 2009, Boulder City Santa Train NTRAK setup.
April 2010, Winslow Arizona Railroad Days NTRAK setup.
October 2010, Barstow Train Show setup as part of NMRA® event.
October 2010, Debut of T-TRAK at Green Valley Library Arts and Crafts show.
December 2010, Holiday Craft & Gift Festival at South Point Hotel and Casino NTRAK setup
December 2010, Sun City Sumerlin NTRAK setup.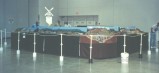 January 2011, the club adopted T-TRAK modules as an alternate for those members who wish to build them with no club modules for funding.
April 2011, SNNT participated in the 2011 Winslow Arizona Railroad Days NTRAK layout with the Tucson club and membes of the Denver Colorado club.